Meet the furry friends I affectionately call my children.
Kenya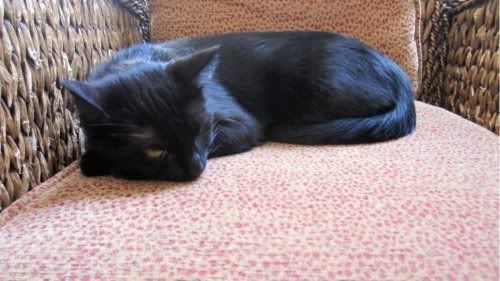 Kenya is our first baby. Hans excitedly called me to announce a family friend had a little black kitten who needed a home. We felt we were the parents the little kitten needed so Hans rushed over to pick her up. Much to his surprise, she was a fully grown cat! Not only that, but she was mean, mean, mean. He brought her home anyway knowing she had nowhere else to go but back to the streets, and we agreed to keep her on a trial basis. If she could win our hearts in a week, she'd have her forever home. Well, naturally she won my heart instantly, but Hans took a bit longer to warm up to her. Still, the end of the week came and we decided Kenya was ours for better or worse. Now, she's calmed down a great deal but she'll probably never be cuddly or particularly nice. We love her anyway.
Phoenix
Ever since moving out of my parents' house, I craved the company of a canine. When Hans and I got a place with a fenced in back yard, my mind was made up: we were getting a dog. Hans seemed a little reluctant but I visited a shelter one day and in the very last kennel saw her, a little (big!) white puppy my heart instantly jolted for, and I knew she'd be ours. She was perfect: Hans had wanted a flop-eared lab puppy and I had wanted a pointy-eared shepherd dog, and Phoenix was a five month old goofy-eared lab/shepherd mix. Hans came to meet her the next day and I didn't even have to say "please". He had the same instant connection and we adopted her that very day. Her adoption story is
here
.
Kettle
Kettle is our newest baby, saved from under a crawl space. He is a happy little guy, always purring and always at our feet. He tested positive for feline leukemia, but he appears to be completely healthy so we treat him as if he is and I think we're giving him the best a kitty could ask for. His adoption story can be read
here
.
These three babies enrich our lives every day. They're a motley crew and we adore them