Yesterday was Hans's birthday. He had to work most of the day but I'd say he came home to a pretty sweet little gift...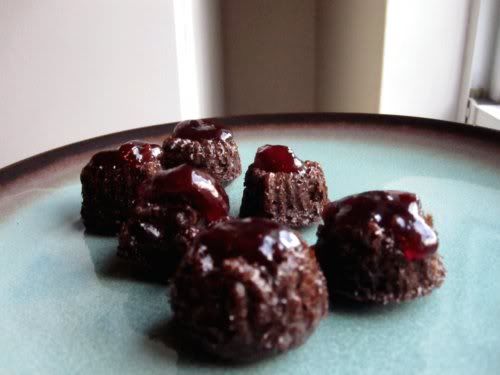 Miniature black cherry chocolate cupcakes!
Okay, so Hans's sister and I wanted to make him cupcakes, but we didn't have a cupcake pan so we used a tea cake pan. You can't tell because I'm a failed photographer, but they're in all kinds of fun shapes--hearts, stars, roses, etc. We used black cherry preserves instead of icing, I think they're adorable! Bitesize is always favorable. Also, we made about a thousand, not six.
I also painted him this cardboard portrait of Pikachu, because we're little kids at heart. I presented it to him first thing in the morning and I was dead tired so my memory is foggy, but he probably squealed with delight.