This is an old favorite of my family's. It's really simple and easily altered to suit individual tastes. We used to do it up with feta cheese and such but now I do it vegan style and my family does, too. So here it is, the easiest pasta salad ever.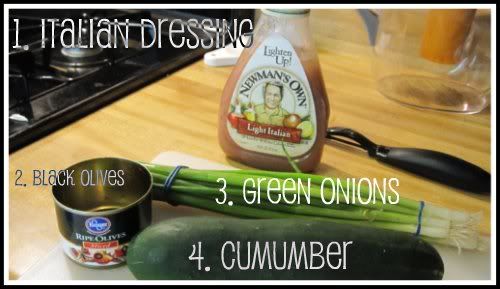 Shorten or lengthen the ingredient list as you wish. My mom always adds tomatoes but I'm a tomato hater so you'll find none in this dish I cooked up for lunch the other day. Also, not pictured are the noodles! I used angel hair this time but I've used anything from bow-tie to fettuccine.
To make it, easy peasy: boil water to cook noodles. Rinse cooked noodles with cold water to chill. Add italian dressing (a little bit goes a long way) and set aside to cool (or refrigerate to speed things up!). Chop up two stems green onions. Peel cucumber and then cut into chunky cubes. Add the cucumber, olives, and green onions to italiany noodle mix, and tada! Tasty lunch time pasta.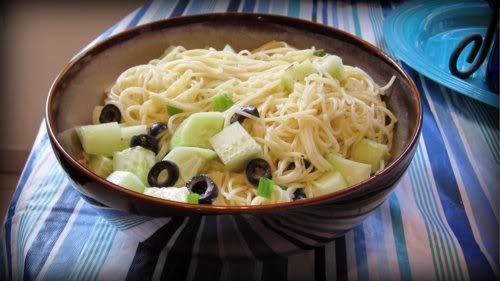 Yum!