BIG changes are in the works for me. I have been working at my job for two and a half years, and Thursday night I put in my two weeks. I love so many things about my job. My boss and his family are wonderful. I have learned so much from them, and have had so much fun with them. They have also shown me how delicious Korean food can be. Unfortunately, I have been harassed by a coworker, and it has gone on for far too long, so I'm taking my leave. Hopefully onto bigger and better and better things. I have an internship in the works, which I'm very excited about, but I don't want to say too much before it's set in stone.
I also officially changed my major from art to english, and I'm excited about the classes I have lined up for fall semester.
These are certainly welcomed changes, but scary nonetheless. Just a few months ago, I was stuck at my job because I was tied to school bills and my apartment, and having to suffer through the crazy antics of my coworker. It was pretty miserable at times. I worked very hard at school and earned a scholarship, which takes care of most of my tuition. And I suddenly find myself living a magical dream life in a house with my boyfriend, instead of trapped throwing all my money into that apartment. I am finally in a position to make big changes, but I can't help but have tiny fears, mean voices in my head telling me it will all come crashing down.
And now I'm getting a stupid earache what the heck!
Anyway! Here is a picture of some geese I took on campus the other day.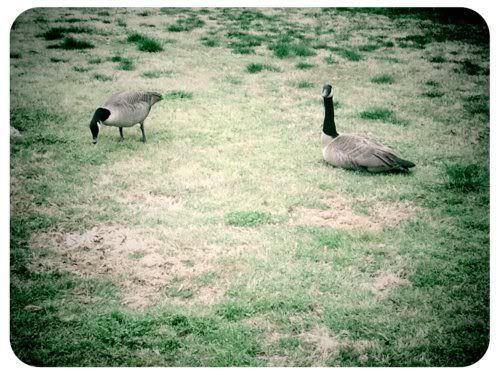 Because I like geese.