I made the idiot decision to buy myself a new outfit the other day. Sure, I'm recently unemployed but spring has sprung and I can feel the summer heat already infiltrating the days. I definitely needed this new outfit, yes? Yes.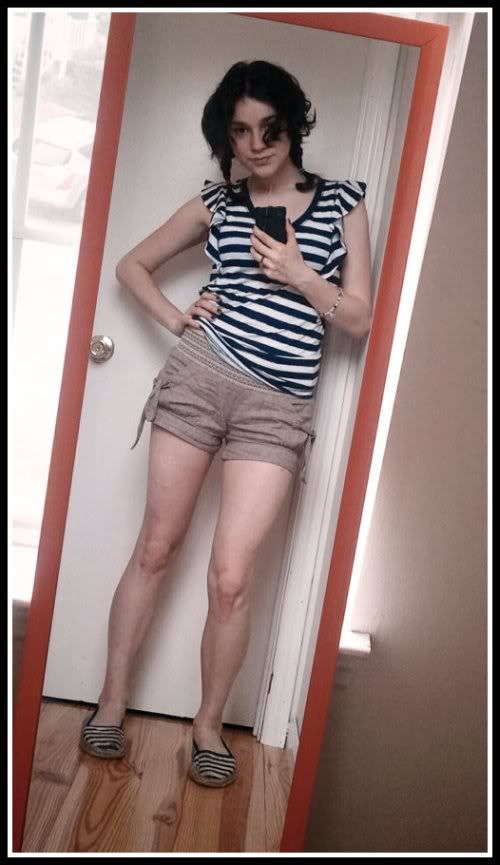 All I have is a silly mirror picture because sometimes I'm too lazy to balance my camera properly and find the perfect angles to use the self timer. Oh well! This fun frilly tank top was only $7 and these shorts (with an elastic waist which is wonderful in light of the dumb winter weight I'm still working on shedding) are so comfy and cute and were on sale for $14, half off. The shoes are some of my old favorites for the stripes and fun twine soles, and went perfectly with this outfit.
I braided my hair for the first time since I was a kid and it was pretty wonderful to wear braids again. I think I'll do it more often.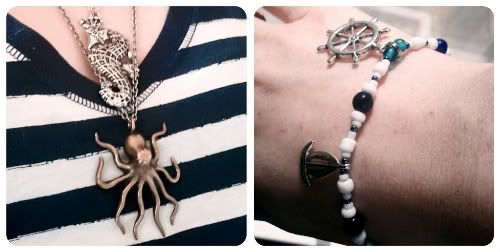 I realized I looking pretty nautical so I threw on red accessories and sported not one but
two
sea creature necklaces. Because sea creature necklaces are rad. The raddest. And as if the octopus and seahorse weren't nautical enough I added one more little touch, this beautiful bracelet my friend Dottie made me.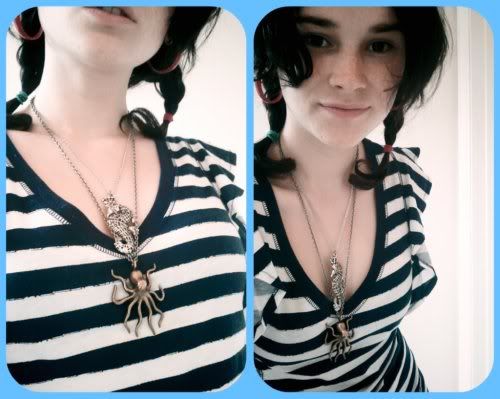 Yes, I am such a necklace fiend and I totally go to that obnoxious level and wear two at once.
I love dressing like a sailor. I'm honestly thrilled it's trendy and I buy it up. Who else loves the nautical style?
Khols shorts
Khols tank top
Target shoes
Octopus from a vendor at Dragon*Con
Seahorse pendant from Michaels